As you may be aware if you watch any kind of news coverage anywhere in the world right now, there are major floods happening in the state of Queensland, in Australia. Over the past fews days, we have also been experiencing a major flood around the capital city of Brisbane and it's surrounding areas.
In fact, the area right around my home has been hit pretty hard and many homes have been inundated with water.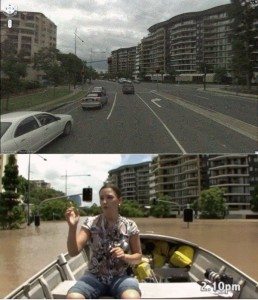 75% of the state of Queensland is now a national disaster area.
To put that into context, that is about 2 times the size of Texas and 5 times that of the UK. That is a massive land area and billions of dollars worth of damage has occured.
People have died, thousands of families have lost their homes and really need help right now.
To get an idea of what has happened, take a look through the images & tweets that were posted during the flood.
To try to get an understanding of what people have gone through, check out these collections of images:
> Twitpics tagged #QldFlood
> Twitpics tagged #BneFlood
| | |
| --- | --- |
| | The best way to help if you want to, especially if you are living internationally, is to donate to the Qld flood relief fund here. |
The amazing thing through all of this disaster, is that the spirit of people affected has not been broken. People are helping total strangers without expecting anything in return.
A few experiences over the past two days has shown me that many people are still in good humor, despite what has happened to them. Pretty much everyone still compared this flood to the massive flood of 1974,which is burned into the psyche of many Brisbane locals.
So, I was inspired me to create this comic based on those recent experiences: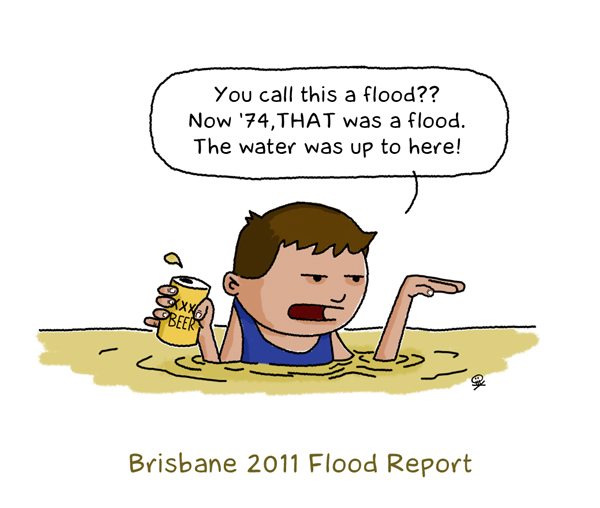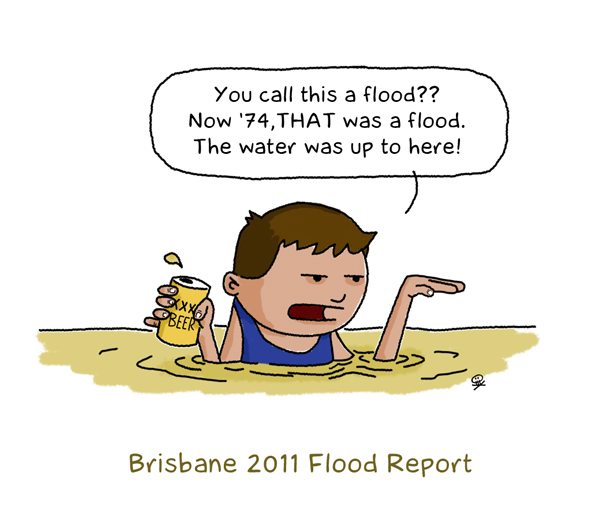 There are so many amazing stories of people coming together in the spirit of true Aussie mateship, to help each other and to keep each other laughing, it is truly inspiring.
And of course, there were many beers handed out to strangers during their times of need. I heard a story of a guy stuck on his roof, that was visited by a guy passing by in a Kayak at 9pm at night. All he could do to help was give the guy on the roof a cold beer.
It may not seem like much, but often the small gestures like that can let you know that you should not give up.
Friends & mates are everywhere. You just need to be willing to stick it out, trust in others and to return the favor when it is due.