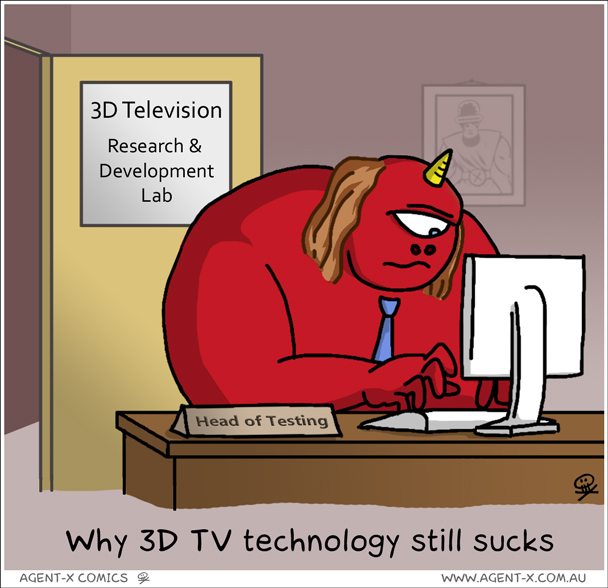 At last! We know why development of 3D television is not progressing well!
We keep getting teased with the promise of the glorious viewing future that 3D television is going to bring to our lives.
For the past few year, we keep getting glimpses of what we could have soon. But the "soon" keeps getting moved.
It is starting to look like this whole 3D TV idea is too hard to figure out.
One of the failings that many commentators pickup on, is the need for special glasses in order to see the 3D effect.
This has led to articles telling us it will flop, even before it has begun.
The glasses are an annoyance & in many cases, users complain of headaches after a few minutes using them.
That said, researchers from Berlin's Heinrich Herz Institute claim to have found a way to deliver 3D without glasses.
They have developed a set-top camera that tracks a viewers' eyes and aligns 3D images accordingly.
Sadly,  it can only work with one pair of eyes at a time at present, so you cannot share the viewing experience with friends.
So, the race is on to see who can develop  this ground-breaking medium successfully first.
Toshiba appear to be the front runners so far, but let's not get too excited just yet…
All I know is that I am waiting with baited breath for it to be ready and in my lounge room, so I can finally watch Judge Judy the way it was intended – with her all up in my face!