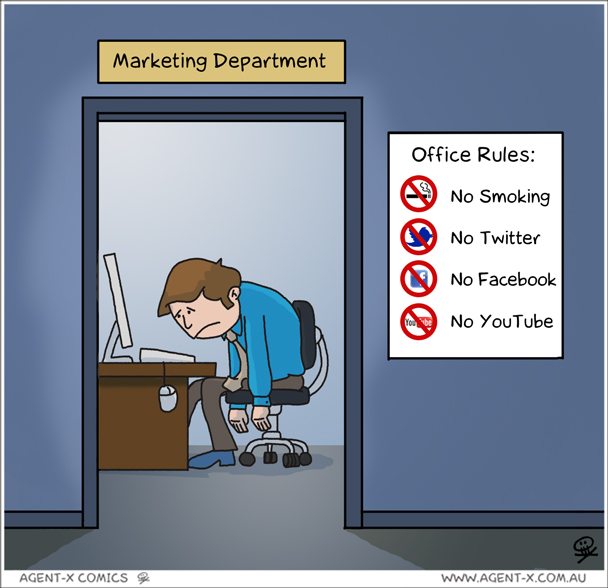 Sometimes companies can have social media policies that do far more harm than good.
The "social media policy" is something that many of us can now find in our company handbooks or OH&S policies.
Apparently, only 29% of  companies have a formal policy on employee social media usage in place, but of those that do, many seem to have gone a little overboard and made them overly strict.
While it is important for companies to set out guidelines on how employees can use online media while during work hours (an sometimes even dictating how they use it out-of-hours) these policies need to be flexible enough not to create issues every time an employee posts something.
Strict rules over social media use in the workplace, can lead to lawsuits and plenty of bad press – precisely the kind of thing these policies are trying to prevent.
There are many reports of people being fired due to posts on twitter and facebook. There is even a website documenting cases of people being "facebook fired".
Some stories are funny due to the sheer ignorance shown by the poster like this one.
Others can be far more serious – such as an AP reporter being reprimanded for a facebook post, teachers being let go or being fired for letting off steam about work in your own time.
It is obvious that many businesses are unsure how or what to do regarding policing their employees & social media. But being dictatorially strict about it is definitely not the answer.
If you are looking to write a policy for how your staff use social media soon, why not browse through this library of Social Media policies from other companies, and choose the best course of action for your organisation?