Hello there gentle readers. I need your help, so that I can see some NINJAS!
Yep, you read that correctly. Ninjas. Shinobi. Shadow warriors. Master Assassins. Sneaky guys!
I really love ninjas (don't we all?) and in a few weeks, I will be travelling to Japan with my Karate club. Whilst I am there, I really really really really want to go to Ninja World.
When I get there, I will be able to experience the ninja world, maybe practice taijutsu (unarmed body combat skills) and finally learn how to jump up onto he roof of a 3 story building and then disappear into a cloud of smoke. That last thing could become very handy in real life.
To raise the cash I need to get there, I am willing to trade you my superb Ninja drawing skills for just a tiny bit of cash.  
Here is the deal:
You tell me what kind of ninja you want me to draw and I will create some unique Ninja artwork just for you. Yes, you!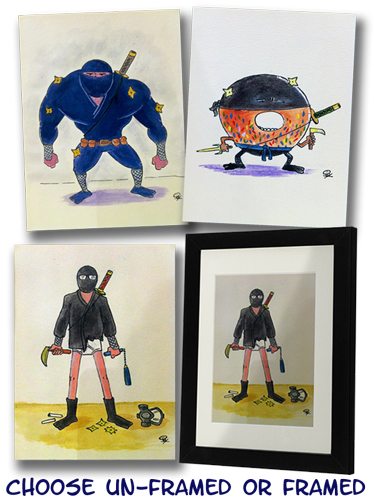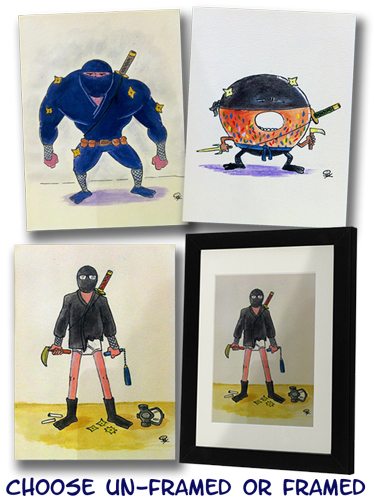 The way to pick your ninja, is to tell me what you want to see "ninjarised" (yes, that is a word…….probably).
For example, pick a common everyday thing and then add ninja to it – like this;
Motorcycle Ninja

Digital Ninja
Elephant Ninja
Space Ninja
Grumpy Cat Ninja
Coffee Ninja
Dr who Ninja
Stormtrooper Ninja
Ice Ninja
You get the idea,right?
So what do you get?
I will create a one-of-a-kind picture of your ninja. These pieces are totally 100% hand crafted, using Ink and Water colours.
The final artwork is on A5 sized 115gsm acid free paper.
You can choose if you want your artwork framed or not.
Each piece is only $20.00 un-framed and I can add a frame for just $5.00 more.
Shipping is free if you are in Australia. International orders have a flat fee of $15.00 shipping. 
There are a few samples below, so you can see what the pieces can look like.
(the pieces below are for sale, so if you want one of them, let me know.)
 
 
 
 Donut Ninja
 Tough Ninja
 Walter White Ninja
(Breaking bad)
GET YOUR VERY OWN NINJA TODAY!
This is a very limited offer, as I am going to Japan very soon. I will only be creating a limited number of Ninja artworks.
So place your order below and I will get your Ninja artwork created and sent to you asap.
UPDATE – Here are some more ideas I sketched, to help get your own creative juices flowing:
| | | |
| --- | --- | --- |
| | | |
| Price Check Ninja | Ninja using iPhones | Computer Ninja |