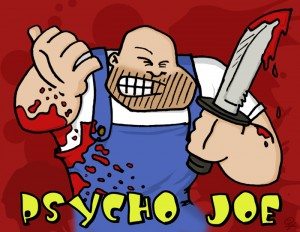 This is Psycho Joe.
Psycho Joe hates pretty much everything and everyone. He makes no apologies for anything he does and he attacks everything with maniacal gusto.
He has one friend – his knife, "Chucky".
He is a character that a friend and I created when we were in high school, and I thought that he really needed to be drawn again.During our school years, we drew Joe and even created a Psycho Joe comic. It was full of hate, blood and cucumber sandwiches.
I created a few min-comics when I was younger, and now that I feel I have the artistic ability to do it justice, I am contemplating redoing the Psycho Joe mini-comic and I may release it sometime in the future.