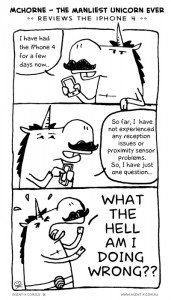 Ever since I got an iPhone 4, people have been asking me about it.
Specifically, they are interested in the issues that have been so widely publicised on the internet.
So, in answer to these people, I thought I would get Hurricane McHorne (The manliest unicorn) to review the phone & give his feedback on it.
McHorne kindly set aside time from tending to his ultimate manly moustache, and tried out the phone.
It was run through at least 4 tests and possibly bathed in Scotch.
Questions were asked.
Things were touched and pushed. (sometimes even on the phone).
Answers were found.
They may not be the answers you want, but hey – I can't alter the laws
of science. Just live with it.