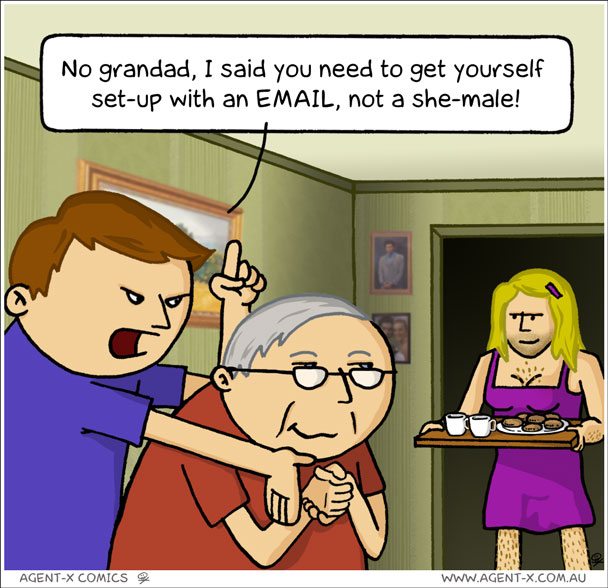 Sometimes helping your grandparents get online is REALLY awkward…
The generation gap can really kick in hard when trying to explain modern convienience and protocols to the generations that have come before us.
Just when they thought they had it all worked out and had gotten used to doing things a certain way, the whole game changes.
Now, if they want to connect to their grandchildren, they need to be net-savvy enough to use facebook and emails.
It is a mighty task to undertake, but well worthwhile in the end.
After all, the extra learning that is needed to understand what you need to do will help keep the neurons firing in the brain. Research now tells us that using your brain to learn substansial new things, will help hold off possible onsets of alzheimers and dementia.
In fact, in 2009, the Facebook Demographics and Statistics Report showed that in the USA, there was a 513% Growth in 55+ Year Old Users on Facebook.
The fastest growing Internet User demographic in 2009 were between the ages of 70 to 75, and estimates state that over Fifity-five percent of these senior citizens are now online, most with broadband capability.
That is so cool and I applaud any aged person giving the online realm a go.
I also truly hope that our elders have the gumption to speak up online and tell the young and stupid where they are going wrong. Possibly, by way of a long meandering story with no real point to it.