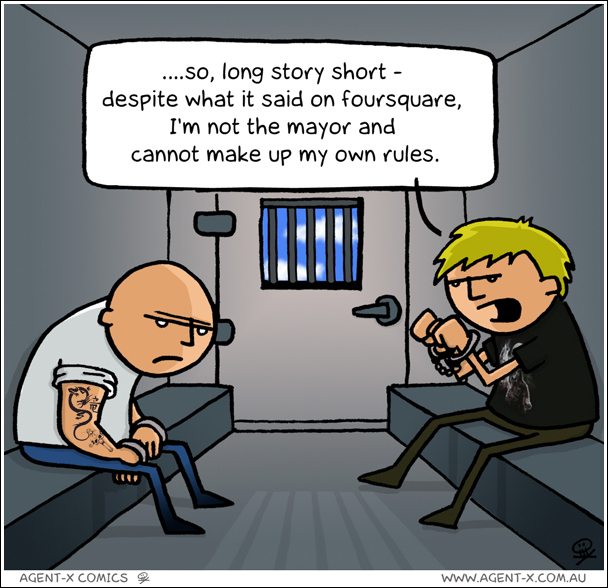 Foursquare may ruin your life!!
It can create obsessive behaviour and the desire to constantly check your phone for updates.
– just like twitter.
You will be searching for friend to make and follow.
– just like twitter.
Secret tips and local info will be yours to exploit and use.
– just like twitter.
In fact, Foursquare has already been touted as the next big thing after twitter, by many blog & press sites
Eg:
– Foursquare : Why it may be the next twitter (a pretty good summary of Foursquare)
– Next Year's Twitter? It's Foursquare
This service has a narcissistic appeal and draws you in via simple things we all love :
Easy Rewards – Foursquare allows you to easily gain points and badges, to prove how good you are.
Bragging rights – You can also become the Mayor of a location, which means you (virtually) rule the roost for that spot.
Friendly Competition – Others can take the Mayor title from you if they check in there more, so if you want to keep the title, you may have to fight for it.
The social element of this service is what gives it extra appeal to the current pundits. Not to mention that, unlike Twitter, Foursquare is actually creating it's own revenue stream.
It is smart, as it works in with Twitter, allowing it to easily capture the interest of those users & creating a promotional machine via their tweet streams.
I am also using another similar service called Gowalla. This service also offers points and rewards for visiting locations.
The interface of Gowalla is much more appealing visually, in my opinion.
Through this service, you can find items at different location, left there by previous visitors. These can be collected and disbursed later, when ever you choose to.
Gowalla is great, but the lack of a competition element like the ability to become a Mayor via foursquare, may let it down in the long run, I feel.
Also, I have managed to find ways to cheat in Foursquare. Gowalla doesn't have the same loopholes.
So for someone who likes to have a little bit of glory as soon as possible, my pick is definitely Foursquare.
But time will tell……
What are your thoughts? Feel free to leave a comment below.