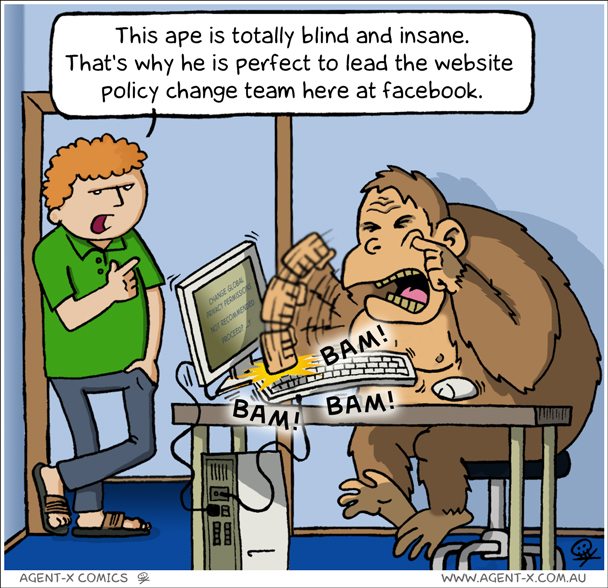 The really sad thing is that this comic could easily be mistaken for fact.
It is old news now that facebook is in real trouble and whomever it is over there making the decisions on website changes & policy direction, is in serious need of an old school kick in the ass.
Facebook needs to decide very soon what they are going to do to address the unrest and mistrust that they themselves, have created within their user base.
Perhaps the entire business of facebook has just been one big scam to get data to onsell to advertisers? (or as they phrase it "create the open graph protocol for the web")
Either that, or we are about to see the most the start of the new way that things work on the web, with facebook blazing the path for others to undoubtedly follow. THEY will tell you what you want, rather than listening to your requests?
Many would argue that some corporations and/or industries have been working this way for many years already.
Personally, I am just waiting to see what happens on May 31st, which is "Quit Facebook Day". Sites such as QuitFacebookDay.com are encouraging you to Delete Facebook accounts on 31 May 2010, if you are fed up of Facebook and its privacy issues.
Facebook has already announced that their privacy settings system will be overhauled some time in the next few weeks, with CEO Mark Zuckerberg more recently admitting in an email exchange to "a bunch of mistakes". Will these overhauls actually happen?
Possibly, but I think it will not be in the way that the general public are expecting.
Will the mass deletion of accounts really occur?
Yes, I believe some people will make a display of deleting their facebook accounts, but the QuitFacebookDay site shows only around 15,000 committed to this at the time of writing this post. This is not about 0.03% of the total number of facebook users.
If I were a betting man, I would say that I expect at least 45% of the users that delete their accounts on facebook to be back there again in less than 3 months.
So, I look forward to seeing what will occur. Let's hope it is truly memorable and positive.