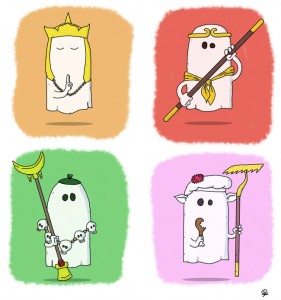 I have a major fanboy crush on the original TV show "Monkey Magic". It is one of the shows I grew up watching and it is still one of my favourite programs to this day.
The show was unique for it's time and has influenced countless books, cartoons, TV shows and artists. It was fun, thrilling and yet it still also taught you life lessons if you took the time to listen.
As well as Monkey Magic, I also like ghosts, so I decided it was time to combine these two things and see what eventuated.
The results can be seen here on my flickr site, where I have posted the full set of these Monkey Magic ghosts. Hopefully, you can tell who is who amongst this lot.
I will be releasing this as a limited edition print soon, so stay tuned to hear more about that.