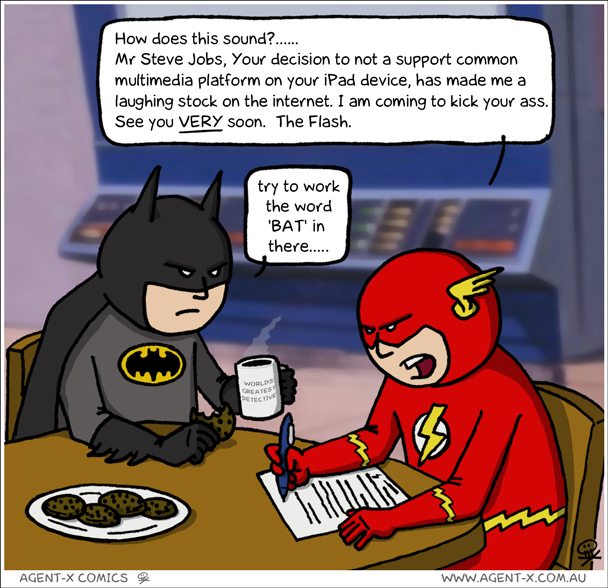 This time it's personal…..
There has been a lot of talk on the Interwebz about the lack of support for Flash on the iPad. We all came to accept it missing from the iPhone, but expectations were high that the fabled iPad would support it. But not so.
And due to this, there have been numerous jokes made about it online.
Obviously, I have thrown my hat into the ring with the comic above. But there have been many other great ones also created over the past few weeks.
Two of my favourites are:
Apple has said all along it didn't believe Flash was a good mobile technology and resisted supporting it since the first iPhone was released.
They prefer HTML5, CSS, JavaScript, and H.264 (all supported by the iPhone and iPad) that are open and standard, while branding Adobe's Flash to be closed and proprietary.
But despite the Apple openly not supporting Flash on their mobile products without a reason, Adobe spent a lot of time to rectify the situation at there end.
Adobe Systems put in the effort to change its technology, and prepared solutions for building Flash applications that run on the iPhone.
Then Apple changed the terms of its iPhone 4.0 software developer kit license, which effectively blocked Adobe's move, meaning that Adobe ceased future development of the Flash-apps-on-iPhone technology.
The result of all this is an Apple-Adobe battle of which I, for one, will be keen to see the outcome.


Looking for a cool new online comics to read?
Well you are in luck, because I have two to recommend to you today! I really like the art in these comics and I hope you do to.
Go now, and check out:
"Toonhole" is a very cool site, which has comics drawn randomly by a bunch of different artists.
The artists include: Mike Nasar, John Martinez, Ryan Kramer, Chris Allison & Aaron J Paetz. 
WARNING – it is not always safe for work.
"Lead Paint Comics" is a strip which is about boobs, barfing meat golems and girls with time portals in their crotches. It is written by Mike Cornnell and Dana Wulfekotte
"Split Lip" is a horror webcomic site, drawn by Sam Costello & various artists. There is a good range of stories on the site, and if you are a horror aficionado, I think you will like it immensely.