Since a few people have asked for it, I have made the "Touch Screen Haters Club" comic into a t-shirt for your wearing pleasure.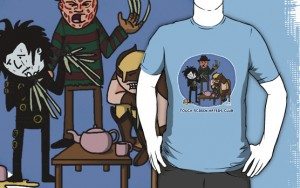 The T-shirt is available on redbubble here >  http://bit.ly/bSZyq3 if you want to go and check it out.
Yes, I hear you out there saying "Oh, how original! A comic person making a shirt out of their cartoon, to sell to me."
Well, I can totally understand why you would feel that way.
Not every comic I do ends up as a shirt.
In fact, I would like to make shirts designs that are mainly separate and special designs created just for that purpose.
But in this case, it was requested. Also, who am I to turn down the chance to make a few bucks from my work?
If I don't do it, someone else will knock off my cartoons & do it themselves.
At least this way,  I don't get ripped off and I can put the few dollars I  *may* make, back into things to help me make more comics for you to enjoy!